IT consulting
Understand. Communicate. Connect.
Understand the situation and requirements. Communicate knowledge. Connect technologies, solutions and partners.

We analyse your existing equipment and work out the requirements.
Understanding is the basis for sound decisions. Our requirements analysis provides you with the basis for your future network concept.

We design and create customised solutions.
Like a bespoke suit: everything fits perfectly. We create solutions which are tailored to you at every stage.

We support you with digitalisation.
Digitalisation and automation are the key to future competitiveness across all sectors. Use our experience to get a big step ahead.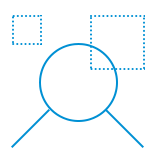 We will advise you on technology.
Before novelty can become progress, curiosity must become understanding. We will show you the opportunities offered by new technologies and implement them with you.