Cisco Meraki recently joined our portfolio at HCD Consulting GmbH. The solution offers central cloud management for Wi-Fi, LAN switching, security appliances and surveillance cameras. This enables Cisco Meraki to considerably reduce the complexity and cost of network architecture in enterprises.
Few areas of IT are as critical to a business as a secure, powerful and, above all, functioning network. But the demands are growing: business processes are increasingly performed digitally, resource-intensive applications or cloud solutions put even more load on the network and increase complexity. The IT team is also under more pressure when it comes to managing and controlling networks.
It's a situation you don't need to be in. Cisco Meraki provides an interesting alternative to conventional LAN and WAN networks: a network which is managed entirely via the cloud. With Meraki, Cisco has simplified the installation, management, control and extension of company networks, administrating all components simply and centrally via a graphic interface. This dashboard features extensive monitoring functions in addition to its configuration functions. Many tasks – such as upgrades, installing patches, backing up data and configurations – can largely be performed automatically via the cloud.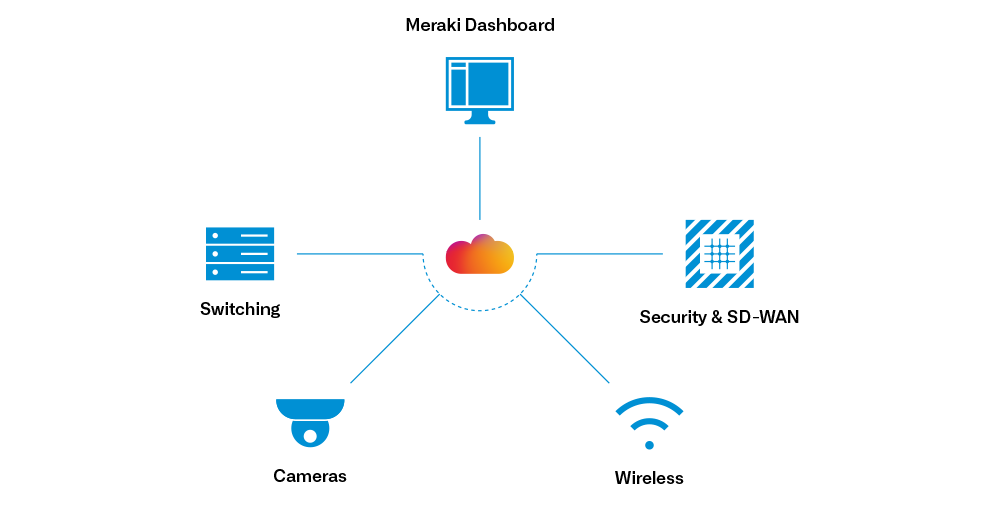 The solution is scalable – from small branch offices up to large networks. Cisco Meraki is particularly suitable for companies with distributed architectures, such as hotel chains or companies with lots of branches and locations, which need multiple instances of the same configuration – which should be simple to replicate. Cloud-based management simplifies rollout, ensures devices can be exchanged rapidly and easily and enables universal configuration changes to be made across locations without great effort.
Cisco Meraki components 
Cisco Meraki includes cloud-managed access points (MR), switches (MS), security appliances (MX) as well as smart security cameras (MV).
Access Points
The Cisco Meraki MR Series access points for cloud-managed wireless LAN are available for indoor and outdoor applications. They support the 2.4 GHz-and 5 GHz frequency bands, as well as all the relevant IEEE standards such as 802.11n or 802.11ac Wave 2. Thanks to techniques such as MIMO, beamforming and link aggregation, the access points achieve the high throughput and reliable coverage which demanding commercial applications require. They also provide secure guest access, BYOD (bring your own device) support and support comprehensive security functions such as IEEE 802.1x, WIPS (Air Marshal) or a Stateful Firewall (layer 3 to 7).
Switches
The Cisco Meraki MS Series switches feature ports for fast Ethernet, Gigabit Ethernet, 10 Gbit Ethernet and 40 Gbit Ethernet for many applications. The compact, fanless layer 2 access switches are particularly suitable for use in confined spaces or low noise environments and, thanks to Power over Ethernet (PoE) and PoE+, are also able to supply the end device with power. They also have QoS functionality for optimisation or prioritisation of speech and video applications.
Security Appliances
The Cisco Meraki MX Series security appliances provide comprehensive security functions, next-generation firewalls, content filtering, web search filter functions, automatic VPN, SNORT-based intrusion prevention, web caching and multiple WAN uplinks.
Smart Cameras
The Cisco Meraki MV Series smart security cameras for use indoors and outdoors are easy to install via the dashboard. They feature high-resolution optics, motion detection, intelligent object detection as well as automatic video material encryption.
Viele Vorteile für Unternehmen
Cisco Meraki offers the following advantages for companies:
Integrated solution, ready-to-use installation: The hardware, software and cloud services are all integrated – additional hardware or software is unnecessary
Easy to manage: Central management, configuration and monitoring of the network via an easy-to-use cloud dashboard
Reliable: Highly-available cloud with certified data centres in Europe (Frankfurt, Munich, Dublin); customer network continues to function if the connection with the cloud is broken; all services from Cisco Meraki are replicated via multiple independent data centres
Scalable: Scalability from small branch offices up to large networks; new devices and locations are easy to add
High level of security and data protection: No transmission of user data via the Meraki data centres, complete HIPAA/PCI compliance (highest Level 1 certification); third party security audits; automated firmware and security updates; disaster recovery
Lower costs: Simple provision accelerates installation and reduces costs; flat fee for maintenance and support
Always up-to-date: New functions and software updates directly from the cloud